Setting Up Your Mailbox
Now that you've created a Mailbox as an Account Owner or Admin, there are a few simple settings that you can adjust to improve the Conversation experience. We'll walk you through each setting in order although you can edit them in any sequence. You can access your Mailbox Settings either right after you create your Mailbox or at anytime afterward by clicking the gear icon near your name of your Mailbox.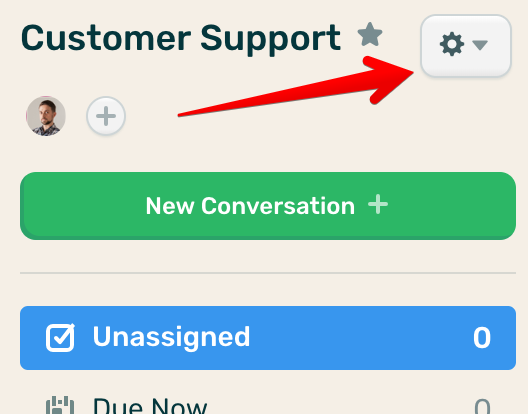 Assign People
Here you'll be able to manage who has access to your Mailbox by adding and removing team members. Just follow these easy steps to manage your Mailbox team:
Anyone assigned to a Mailbox will automatically be enrolled in the Outreach plan. If removed from all Mailboxes, they will automatically be downgraded to the Collaborate plan.
Click the Add + button

From here, you can assign people who are already members of your account to your Mailbox . Simply select the users you'd like to add from the list. Typing in the first few letters of their name will help you find the person your looking for more quickly.

If you'd like to remove someone who has already been assigned to your Mailbox, simply click on the X button beside the person's name.
Auto-Fowarding
In order to use your support-friendly email address, you'll need to forward it along to your DoneDone Mailbox address. You may have addresses like support@yourcompany.com or returns@yourcompany.com that customers would continue to use but are automatically logged in DoneDone to help you track your Customer Conversations.
Enter the addresses that you're auto-forwarding from. It can be a single address or multiple addresses separated by pressing <enter>.

This is the DoneDone Mailbox you will be auto-forwarding to. When configuring auto-forwarding on your email server, simply copy and paste this address. If you'd like to generate a new address, click the Generate new address link.
Incoming Email
You'll be able to specify initial settings for Assignee, Status, Priority and even add Tags whenever a Conversation is first received from a Customer. You're also able to set what a Conversation status will be used when a Customer replies to a Conversation. For example, you may want to change the Conversation Status from Solved to Pending when a Customer replies.
Initial Conversation Settings
This is where you let DoneDone know how to handle Conversations that have just been received from a Customer. You can leave Conversations unassigned or assign them to a team member. You can even set its initial Status, Priority or add Tags to Conversations that have just appeared in your DoneDone Mailbox.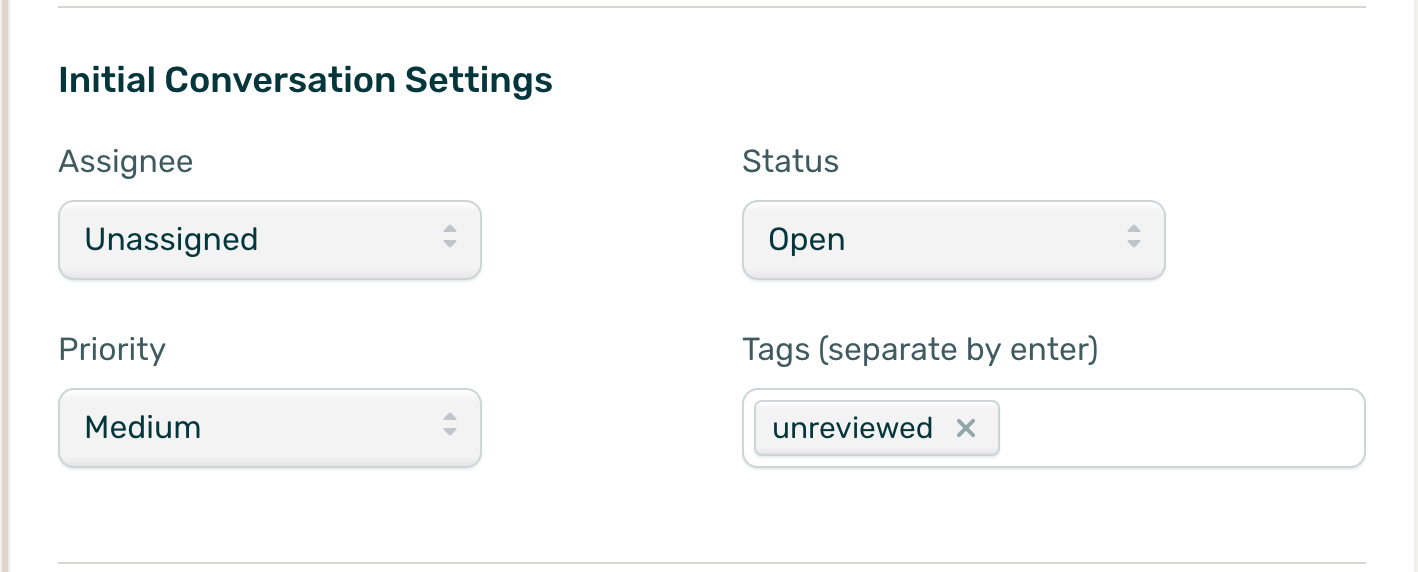 Workflow Settings
Often times it's nice to automatically update the Status of an Inactive Conversation when a Customer replies. In this example, we set the Status to 'Pending' when a Customer replies to a Conversation but you can choose a different Status or elect to not change the Status at all.

Outgoing Email
As you've just finished specifying how incoming Conversations are handled when received, you can also specify how emails are sent to Customers. You'll be able to verify your outgoing address with Postmark, our email management partner, and set the From Name, From Email Address and a standard email Signature that will be used by your Mailbox team.
Let's begin by updating the From Name and From Email Address. Click on the Edit button to get started.

You'll then be prompted to enter the From Name and From Email Address that will be used for all Conversations coming from your DoneDone Mailbox. Click Update Details when you're finished.

You'll receive an email sent to your From Email Address from Postmark to verify your address. Just follow the link in that email and then click the Yes, I verified this! button.

You can also create a standard Signature that will be added to the end of all your Conversations and replies. It's a good way to ensure that your entire Mailbox team is ending each Conversation in a friendly and consistent fashion.

Click the Insert Variable + button to add an element of dynamic personalization to your Conversations, ensuring that each Signature contains your team member's name.
Saved Replies
Use Saved Replies to respond to your most common Customer inquiries. It's a great way for your team to save time on the most frequent questions.
To create a new Saved Reply, click on the New Reply + button.
Name your reply and draft your message. Make sure to insert Variables to personalize the Customer's name and Replier's name.

To use a Saved Reply from when replying to a Customer, simply select the Saved Reply you'd like to use from the dropdown when crafting your reply to the Customer.
Auto-Responder
Auto-responses are a great way to let your Customers know that you've received their message. You can send them to Customers every time you receive a new Conversation or Reply or only when your office is closed.
First, enable auto-responses by clicking the off/on toggle button.


Now enter the desired Subject and Reply that you'd like automatically sent back to your Customer.
The last step is to choose whether you'd like this reply sent every time a Customer reaches out or only when your office is closed.
If you enable Only outside of office hours, make sure to specify your time zone and office hours.
---
---